IRA Brigade Activity series (reference code: A/1-A/92)

A total of 151 files are to be found in the Activity ("A") series. Only a very limited release of material relating directly to Easter Week, 1916 is possible for the 1st release from this series.

The Referee and his Advisory Committee formed Brigade Committees, comprising persons who had formerly held high rank in the Forces in the Divisions and Brigade structure of the IRA. This approach was adopted in early 1935 and the Referee worked through these Committees and elected Brigade delegates to gather "Brigade Activity Reports" — (A/1 to A/92).Their intention was to gather material to assist in the verification of individual applications for pensions.

Brigade activity reports vary in the amount of detail submitted for specific operations by each Brigade Committee. Common features in nearly all of the Brigade reports include: a brief description of the particular operation undertaken or planned; the date of the operation and its location; the number of the enemy engaged; casualties in either side (the names of Volunteer casualties being supplied). Maps and/or sketches accompany some reports and the IV/IRA members taking part are broken down by Company/Battalion, name and address, and classified as actual participants, outposts, road-blocking parties or otherwise in support for the particular operation.
A list of activity files released in 2011 can be viewed below. Select to view detailed description and access the digital file.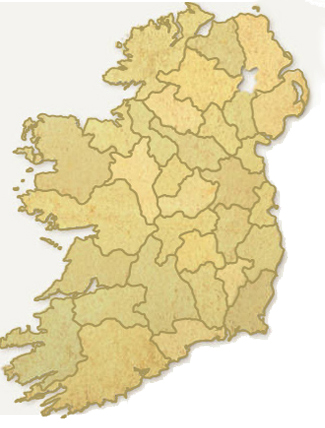 IRA Brigade Activity Files - Search by County
Select a county by clicking the map or selection from the text list below. Please note that only the counties with links have associated Activity Files at present.
| | |
| --- | --- |
| Antrim | Leitrim |
| Armagh | Limerick |
| Carlow | Longford |
| Cavan | Louth |
| Clare | Mayo |
| Cork | Meath |
| Derry | Monaghan |
| Donegal | Offaly |
| Down | Roscommon |
| Dublin | Sligo |
| Fermanagh | Tipperary |
| Galway | Tyrone |
| Kerry | Waterford |
| Kildare | Westmeath |
| Kilkenny | Wexford |
| Laois | Wicklow |